---
Ride the Water and Feel the Adrenaline!

Are you ready to get out on the lake and try an adrenaline filled watersport or just master your existing skills with Kneeboarding? Experience the thrill and excitement with this easy to do watersport that will have you craving for more water time.
the newest and latest Las Vegas Attraction that's finally arrived for Las Vegas.
Beat the heat and see what Wakesurfing is all about at the crystal clear, blue water Lake Mead National Recreation Area.

Kneeboarding is an unforgettable watersport adventure that will have you wanting to conquer the crystal blue waters of Lake Mead. Let the water slide under your board as you experience this incredible easy and exciting watersport and see how inviting it can be for all ages. Beginners to Professionals find Kneeboarding full of thrills and excitement as you jump from wake to wake or do 360's on a kneeboard. Come out and experience Kneeboarding with the Hoover Dam as your backdrop just 35 minutes from the Las Vegas Strip.


We are the only place near Las Vegas at Lake Mead that offers a Kneeboarding and knee board session and experience like this.
Our certified instructors will help you get up and riding on the board for the first time or help you get to the next level. Nothing moves you forward like time on the water.
---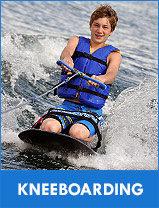 KNEEBOARDING
Kneeboarding is an aquatic sport where the participant is towed on a surf style board with fin(s) is also done on the waves at the beach. In the usual configuration riders kneel on their heels on the board, and secure themselves to the deck with an adjustable Velcro strap over their thighs. Most water ski kneeboards do not have fins to allow for easier surface spins. The advantages of kneeboarding versus other towed-sports seems to be an easier learning curve and a sense of being closer to the water when falls occur.