---
Kick The Boots off in Style

Want to get away from the regularity of wakeboarding? This water sport is far different from the rest.
This self stimulating adaptation of wakeboarding has a field of possibilities for technical progression but mainly focuses on finesse and style.
Unlike wakeboarding, the rider is not bound to the board in any way, which gives the sport its own unique challenges. The top surface of the board is covered with griptape similar to a skateboard or a soft, high-traction, foam. Wakeskating tricks are inherently more technical than wakeboarding because the tricks are based firmly on skateboarding. The board is something that you interact with and ride with, not on.


We are the only place near Las Vegas at Lake Mead that offers Wakeskating and Wake skate sessions.
---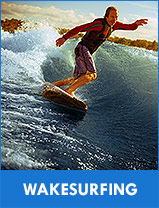 WAKESURFING
Wakesurfing is a water sport in which a surfer trails behind a wakeboard boat, surfing the boat's wake without being directly attached to the boat. The wake from the boat mimics the look and feel of an actual ocean wave. After getting up on the wave by use of a tow rope, wakesurfers drop the rope and ride the steep face below the wave's peak in a fashion reminiscent of ocean surfing. Wakesurfers generally use special boards, usually five feet or shorter.