---
Catch an Endless Wave with Wakesurfing

Are you ready to experience the latest trend in watersports on Lake Mead? Introducing Wakesurfing,
the newest and latest Las Vegas Attraction that's finally arrived for Las Vegas.
Beat the heat and see what Wakesurfing is all about at the crystal clear, blue water Lake Mead National Recreation Area.

Wakesurfing is great fun for all ages and is easy to learn without the challenge of surfing in the ocean. There's nothing like feeling the wave from behind you as you let go of the rope and start surfing for the first time. It's just you, the ENDLESS wave and the surf board. You can ride this wave until it gets dark or we run out of gas. We're actually working on setting the world record for surfing for the longest time. We use a specially designed wave producing boat for you to surf an endless wave! Let Vegas Water Sports take you for the ultimate Wakesurfing experience with the Hoover Dam as a backdrop just 35 minutes from the Las Vegas Strip.


We are the only place near Las Vegas at Lake Mead that offers Wakesurfing and Wakesurf sessions.
Our certified instructors will help you get up and ride the wave for the first time or help you get to the next level. Nothing moves you forward like time on the water.
---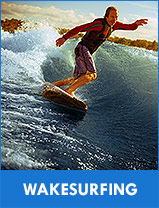 WAKESURFING
Wakesurfing is a water sport in which a surfer trails behind a wakeboard boat, surfing the boat's wake without being directly attached to the boat. The wake from the boat mimics the look and feel of an actual ocean wave. After getting up on the wave by use of a tow rope, wakesurfers drop the rope and ride the steep face below the wave's peak in a fashion reminiscent of ocean surfing. Wakesurfers generally use special boards, usually five feet or shorter.