---
Turn and Burn, Cut and See the Trail…

Are you ready to get out on the lake and try the most popular watersport or practice to become a professional in Water Skiing? We offer Water Skiing lessons, instruction and sessions at the Lake Mead National Recreation Area.
Water Skiing is one of the most popular sports in the United States and millions do it each year in this competitive sport. Using a specially designed wave producing boat, you can water ski with the perfect conditions to cut and see the trail. Let Vegas Water Sports take you for the ultimate Water Skiing experience with the Hoover Dam as a backdrop just 35 minutes from the Las Vegas Strip.


We are the only place near Las Vegas at Lake Mead that offers Water Skiing and Water Ski sessions.
Our certified instructors will help you get up and ride the water for the first time or help you get to the next level. Nothing moves you forward like time on the water.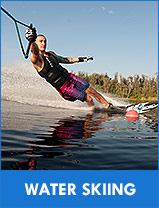 WATER SKIING
Water Skiing is a sport in which an individual is typically pulled behind a boat over a body of water, skimming the surface. Water skiing typically begins with a deep water start, with the skier crouching down in the water. When the skier is ready, the driver accelerates the boat to pull the skier out of the water.
Lake mead, water ski Slalom Instruction – Proper Edge Change
Through all of the levels (beginner through advanced), one of the most common mistakes I see as a coach is skiers' initiating the edge change with the upper body. This results in loss of outward direction, and in return causes the finish of the turn to be delayed.


Lake mead, water sports How to Hard Cut in Slalom Water Skiing
1 Get up and comfortable on your slalom ski. Instruct your driver to drive straight. 2.Ski carefully to the outside of the wake, 35 to 40 feet from the midpoint of the wake. Avoid letting the rope go slack at all. 3.Bend and lean slightly forward, transferring more of your weight onto your board.


HOT-WATER-SKI USA WaterSki
The Beginning Water skiing was invented in the United States in 1922 when Minnesotan Ralph Samuelson built the first pair of skis and was towed on them behind an outboard-powered boat. What Samuelson originated became an exhibition sport on both sides of the Atlantic in the 1920s and early 1930s.
---